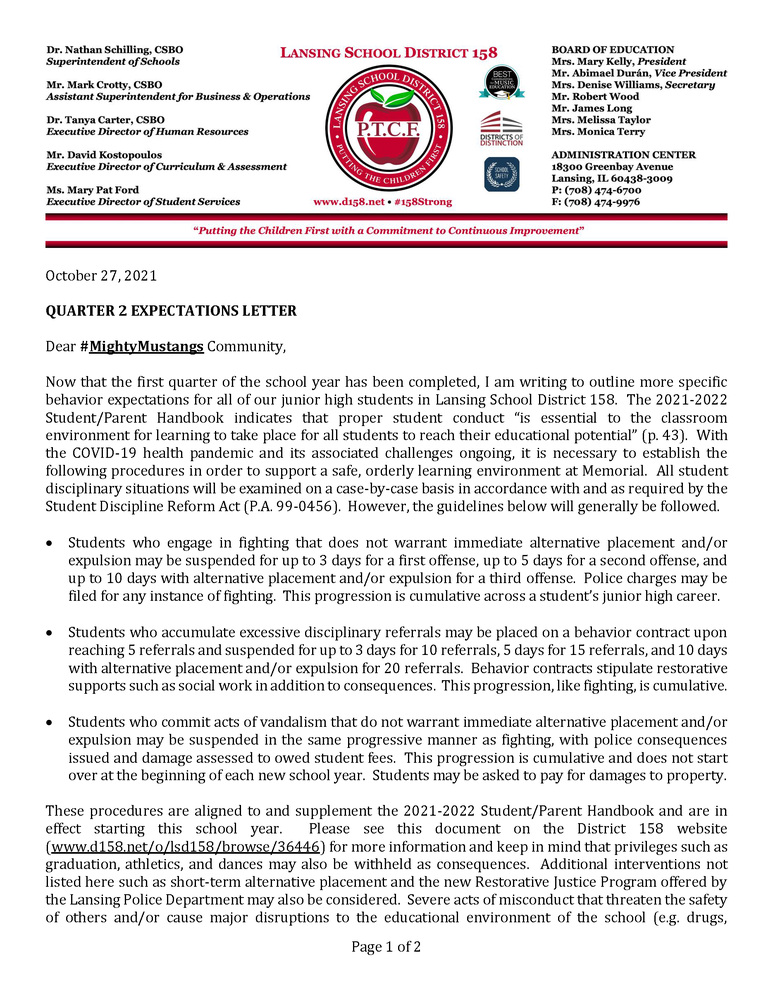 MJHS Q2 Expectation Letter 10-27-21
Lansing School District 158
Wednesday, October 27, 2021
October 27, 2021
Dear #MightyMustangs Community,
Please see below for a Quarter 2 letter from Superintendent Dr. Schilling that outlines expectations for student behavior at Memorial Junior High School in alignment with the 2021-2022 Student/Parent Handbook, which you can find on our website.
LINK TO QUARTER 2 LETTER FROM DR. SCHILLING
You are welcome to contact the Memorial Main Office with any questions.
Sincerely,
Lansing School District 158
---
27 de octubre, 2021
Estimada Comunidad #MightyMustangs,
Consulte a continuación una carta del Cuarto 2 del Superintendente Dr. Schilling que describe las expectativas del comportamiento de los estudiantes en la Escuela Memorial Junior High en alineación con el Manual Para Estudiantes / Padres 2021-2022, que puede encontrar en nuestro sitio de web.
ENLACE A LA CARTA DEL CUARTO 2 DEL DR. SCHILLING
Los invitamos a ponerse en contacto con la oficina principal de Memorial si tiene alguna pregunta.
Atentamente,
Distrito Escolar 158 de Lansing