On Wednesday, May 8, Memorial Assistant Principals Mr. Nagle and Ms. Washington, Memorial Dean/Activities Director Mr. Herron, and Oak Glen Assistant Principal Ms. Sechowski were recognized at Governors State University! All four administrators recently completed the New Leaders Mentoring Program with Dr. Saundra Mickles (pictured third from left). Congratulations! #158Strong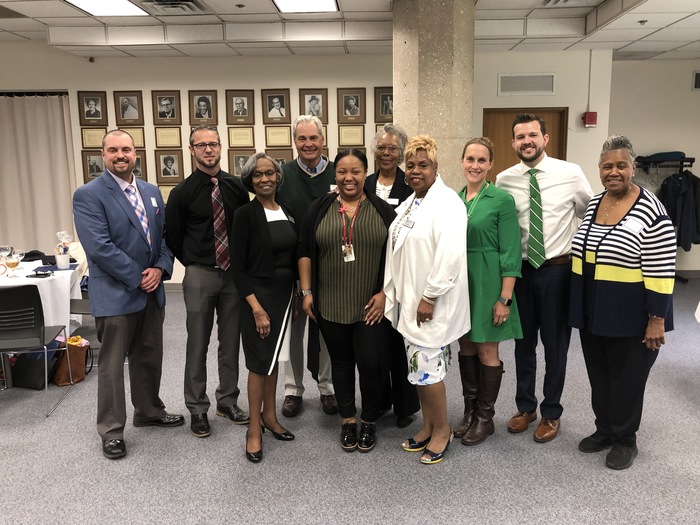 At last week's Illinois Association of School Business Officials Conference, Chief School Business Official Mr. Crotty was recognized by Superintendent Dr. Schilling for his "financial advice, business management, and operational expertise" in District 158! Mr. Crotty helped secure bonds to support the $23 million renovation and expansion of Coolidge Elementary School! A link to the conference video can be found here:
https://vimeo.com/334910366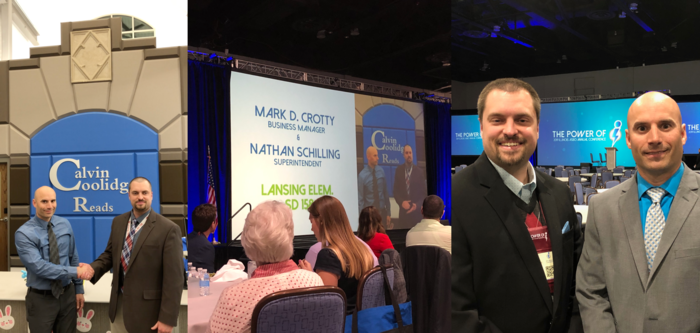 Great job Lester Crawl, Coolidge, Reavis, and Memorial for representing District 158 in Lansing's Good Neighbor Day Parade. May The Fourth Be With You! #158Strong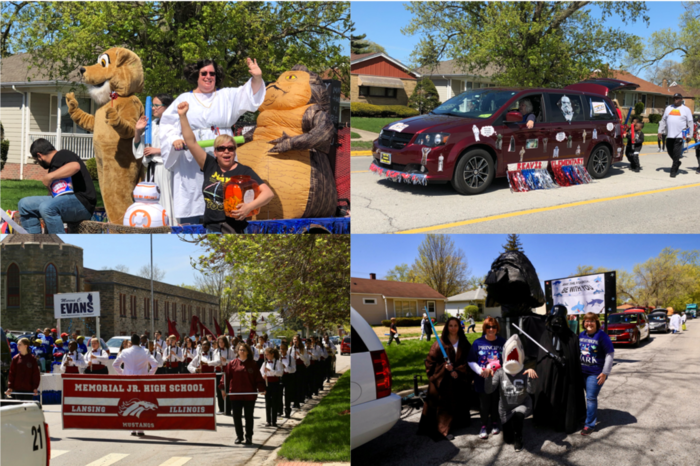 On Thursday, May 2, students from the Reavis Kindness Club, Oak Gen and Coolidge Songs of Peace Choirs, and Memorial Concert Choir joined together to perform a family concert entitled "It Just Takes One Voice." Several Lansing community members joined us including Mayor Eidam, who was presented with kindness notes colored by the students to be distributed to community members at the Village Hall.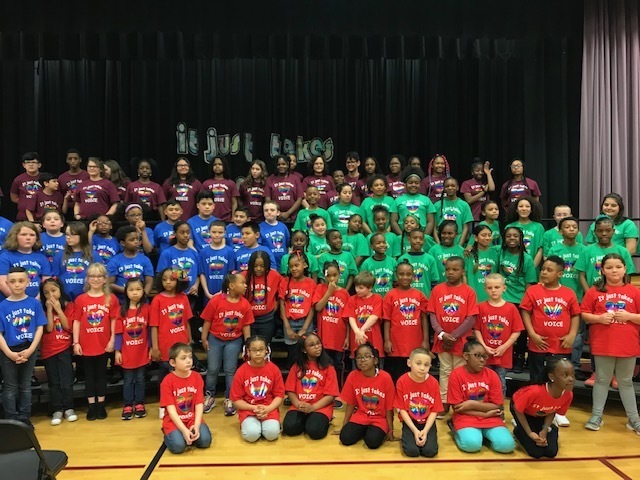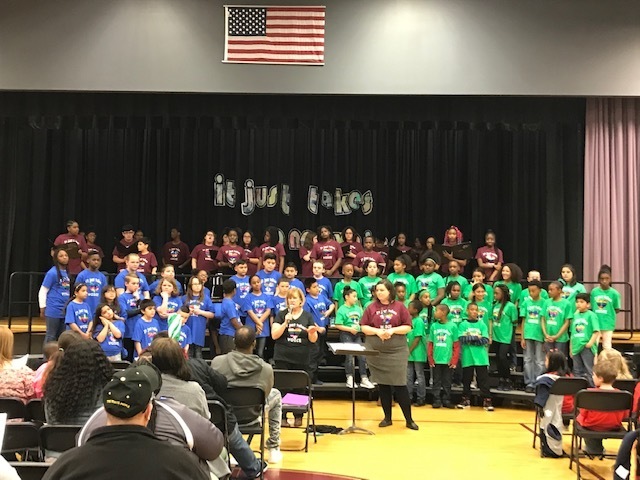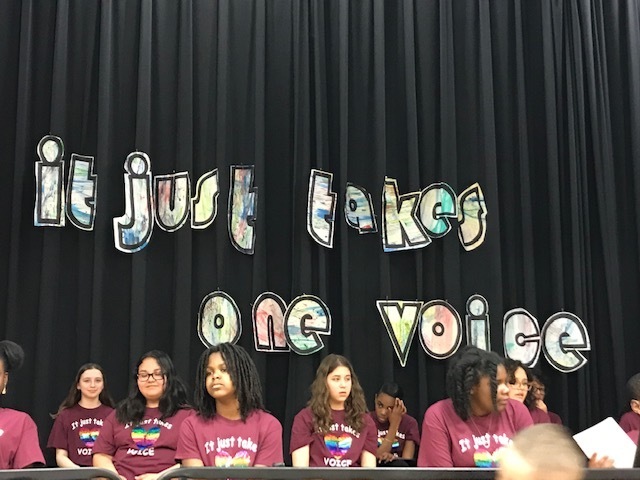 Congratulations to Director of Curriculum & Assessment Mrs. Bragg for being selected for the James V. & Dorothy B. Moon Scholarship from the Illinois Association of School Administrators! This award was established by a former Illinois superintendent and provides support for administrators completing advanced graduate coursework in school district leadership. The article below was published in the April 2019 edition of Leadership Matters.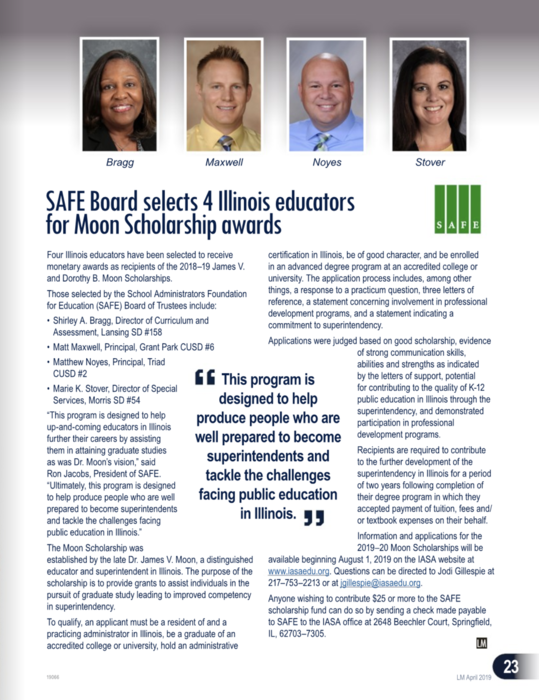 April 24, 2019 Dear Parent(s)/Guardian(s), A reminder that Online Registration for the 2019-2020 school year will open next Monday, April 29! Early bird discounts apply through Friday, May 10. Please register your student(s) before school ends on Monday, June 10. You are welcome to contact our school offices with any questions. Sincerely, Lansing School District 158

On April 12-13, 2019, our Strategic Planning Committee met to create a new 5-Year Strategic Plan for the school district. Thanks to all of the board members, parents, staff, village officials, and community members who participated! District 158 also unveiled a new vision statement at this time: "Putting the Children First with a Commitment to Continuous Improvement!" The Strategic Plan will be presented at our next Board of Education Meeting on Tuesday, April 30. #PTCFVision2024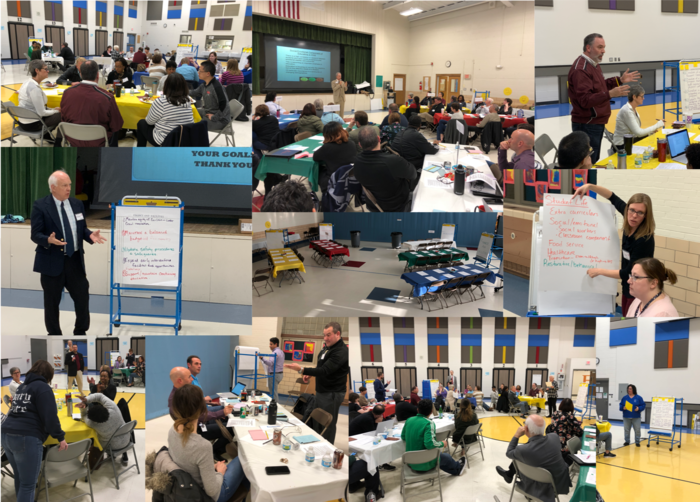 Lansing School District has started a new tradition! At the April 17 Board Meeting, a student led the Pledge of Allegiance. This is Philip Dickey, a fourth grader in Mrs. Rhodes's class at Reavis. Philip is an Honor Roll student, consistently demonstrates kindness and caring for others, asks a lot of questions and is an active participant in class, and is a member of the PBIS Student Leadership Team. We are hoping to have other students lead the Pledge at future Board Meetings. Great job Philip!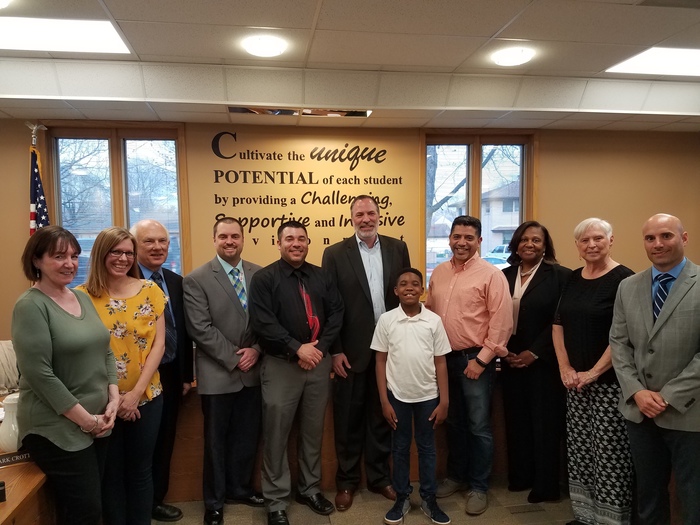 Lansing School District 158's Annual Elementary Science Far was held at Oak Glen on Saturday, April 6. Congratulations to all students who participated and thanks to our junior high scientists for showcasing their own projects before heading to State!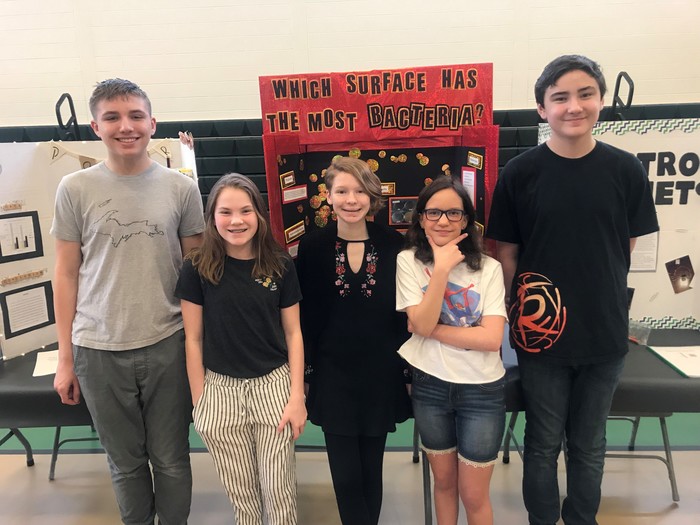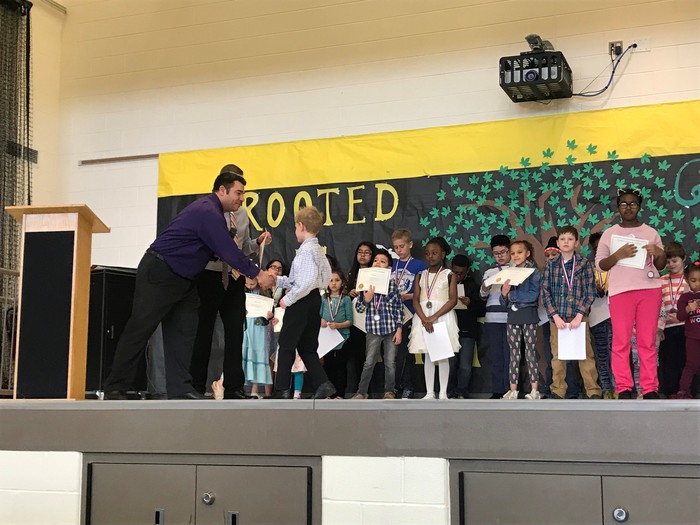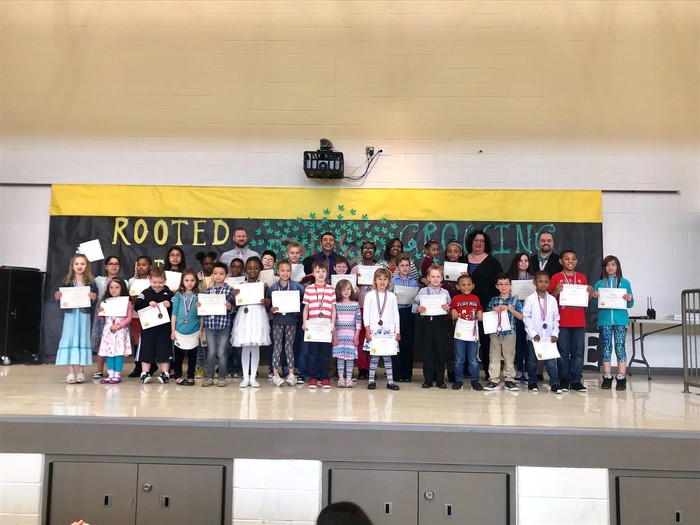 Board Secretary Mr. Wood and Superintendent Dr. Schilling on the roof of First United Methodist Church with Pastor Price (center right) and Pastor Young of Increasing Faith Ministries (far right) for the T. F. South baseball game on April 1, 2019. Memorial Junior High's baseball and softball teams were bused over to watch the Rebels win 11-1!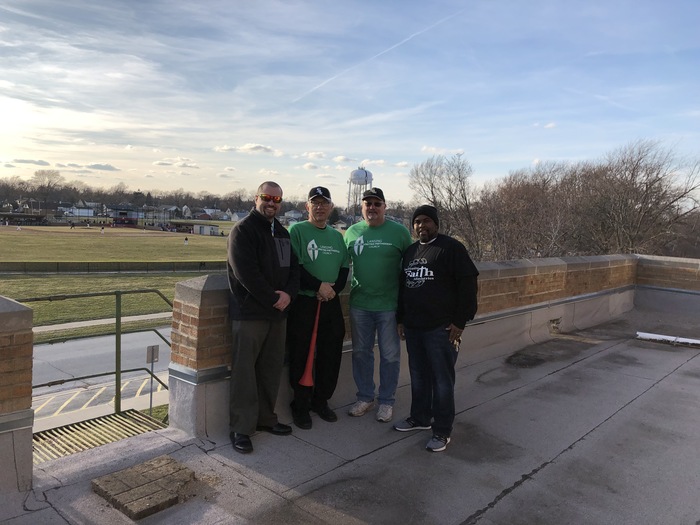 Coolidge construction update! The new main entrance and front office are taking shape with arches and windows installed, furniture delivered, and walls painted in school colors. Our architects continue to respect the history of Coolidge by restoring original stonework inside the new building. District 158 will be hosting a Business After Hours with the Lansing Area Chamber of Commerce on Wednesday, April 10, 5:00-7:00 PM to showcase this progress. We hope to see you there!

Congratulations to District 158's Director of Student Services Dr. Carter, who is being inducted into Sandburg High School's Legacy Hall! This organization awards alumni who have realized their life-long potential and established a positive example for future students.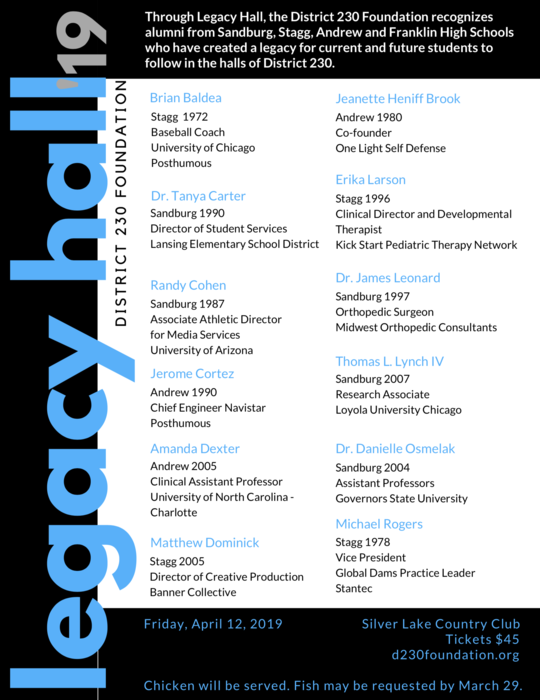 On Wednesday, March 20, District 158's Buildings & Grounds Team was recognized by Dr. Vanessa Kinder, Executive Director of the South Cook Intermediate Service Center (pictured far right), for their work in helping District 158 secure a perfect score on our 2018-2019 facility inspection! South Cook noted that all five of our schools are very clean, well maintained, and conducive for learning. Great job!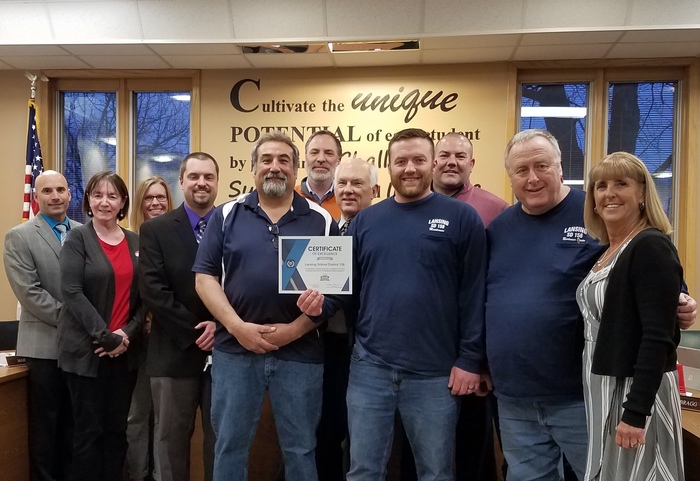 Board of Education members and District 158 administrators collaborating with Strategic Plan Facilitator Dr. Madonia during a training session on Monday, March 11. The group reviewed, discussed, and practiced ways to engage community stakeholders when the full committee assembles in a few weeks. #Vision2024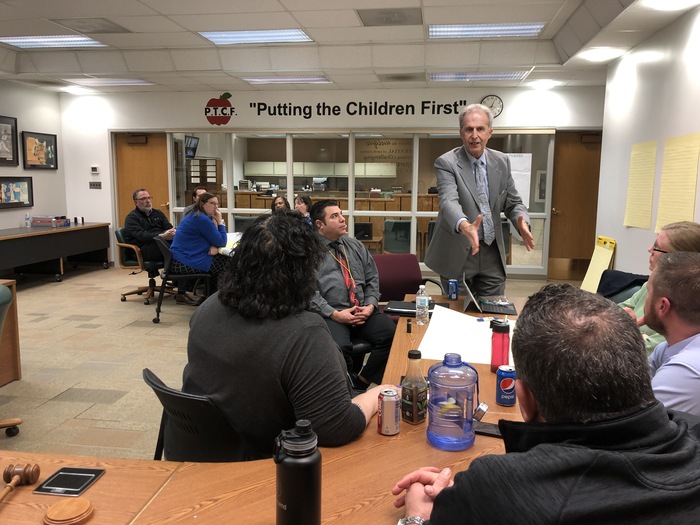 Congratulations to our Coolidge Cougars for winning the 10th Annual Lansing Roundball Classic - finishing the tournament and their overall season undefeated - and Oak Glen fifth grader Jessica Campuzano for winning the Hot Shot Competition! Recognition was provided during the Village of Lansing's Board Meeting on March 5, 2019.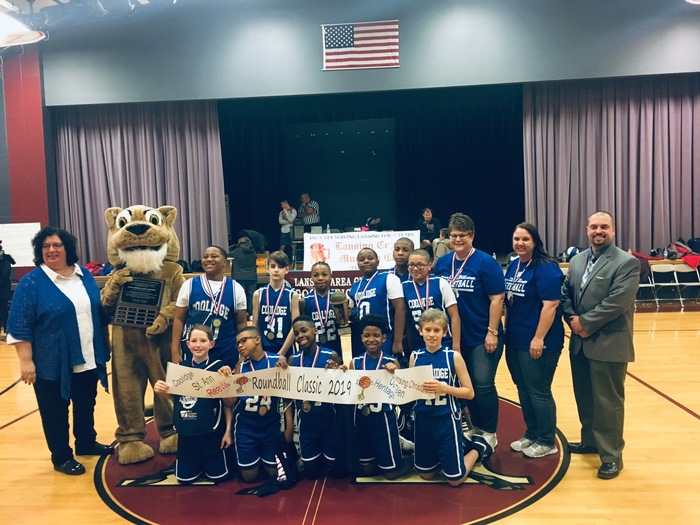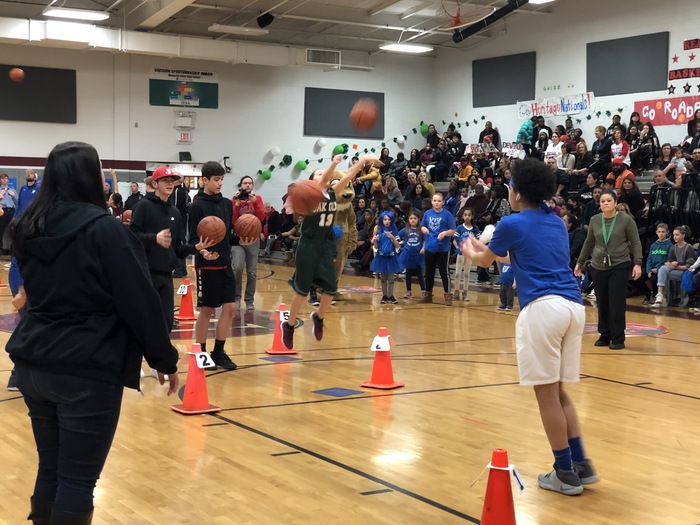 On Wednesday, February 20, our Board of Education recognized Memorial's 8th Grade Girls Basketball Team for their achievements this season. They finished the year with a record of 18-3, averaged 52 points per game, won Regionals and Sectionals, and qualified for State two years in a row. Ana-Liese Torian and Brianna Hill were selected for All-Conference and Javaiya Baker was named the team's MVP. Congratulations girls!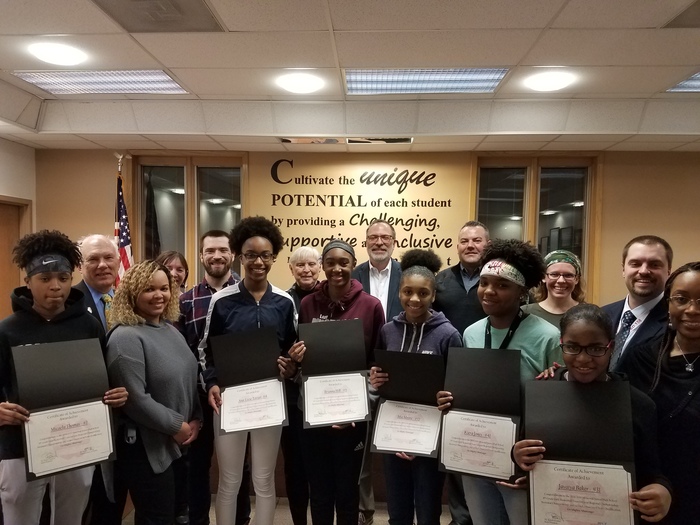 On Friday, February 1, Lansing School District 158 started the process of developing a new five-year strategic plan. The Board of Education and district administration spent two evenings with our plan facilitator - Dr. Bob Madonia (pictured), a retired superintendent, consultant, professor, and staff development provider - to create focus areas and a vision that will guide this process. Stay tuned for a strategic planning survey that will be sent out to the community in the near future. #Vision2024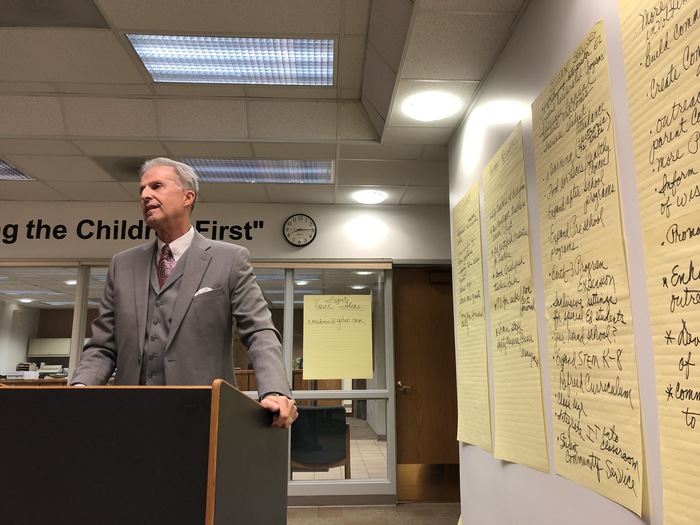 Todas las escuelas del Distrito Escolar Lansing 158 regresarán a la sesión el viernes 1 de febrero.

All Lansing School District 158 schools will be back in session on Friday, February 1.

On Monday, January 28, Superintendent Mr. Schilling and District Attorney Mr. Boyle completed a presentation and training with all of the Lansing Police Department supervisors. Topics included legal requirements, student discipline, reciprocal reporting, and parent communication. District 158 prides itself on maintaining excellent working relationships with our local first responders!