Memorial is preparing for fun night of fundraising, "McTeacher Night", at our local participating Lansing McDonald's located at 17810 Torrence Avenue. Not only are we seeking parent volunteers to work alongside MJHS staff and the real McDonald's crew, but we are also excited for you to invite your extended family and friends to come out and make purchases in support of Memorial Junior High School! Memorial will receive 20% of all food sales and 100% of all pie sales during the event. Remember to bring cash for pies:) For volunteer opportunities, please email Mrs. Foster:
kfoster@d158.net
Hola familias de MJHS Mighty Mustang, Memorial se está preparando para una divertida noche de recaudación de fondos, "McTeacher Night", en nuestro local participante Lansing McDonald's ubicado en 17810 Torrence Avenue. No solo estamos buscando padres voluntarios para trabajar junto con el personal de MJHS y el verdadero equipo de McDonald's, sino que también estamos emocionados de que invite a su familia extendida y amigos a venir y hacer compras en apoyo de Memorial Junior High School. Memorial recibirá el 20% de todas las ventas de alimentos y el 100% de todas las ventas de pasteles durante el evento. Recuerde traer dinero en efectivo para pasteles :) Para oportunidades de voluntariado, envíe un correo electrónico a la Sra. Foster:
kfoster@d158.net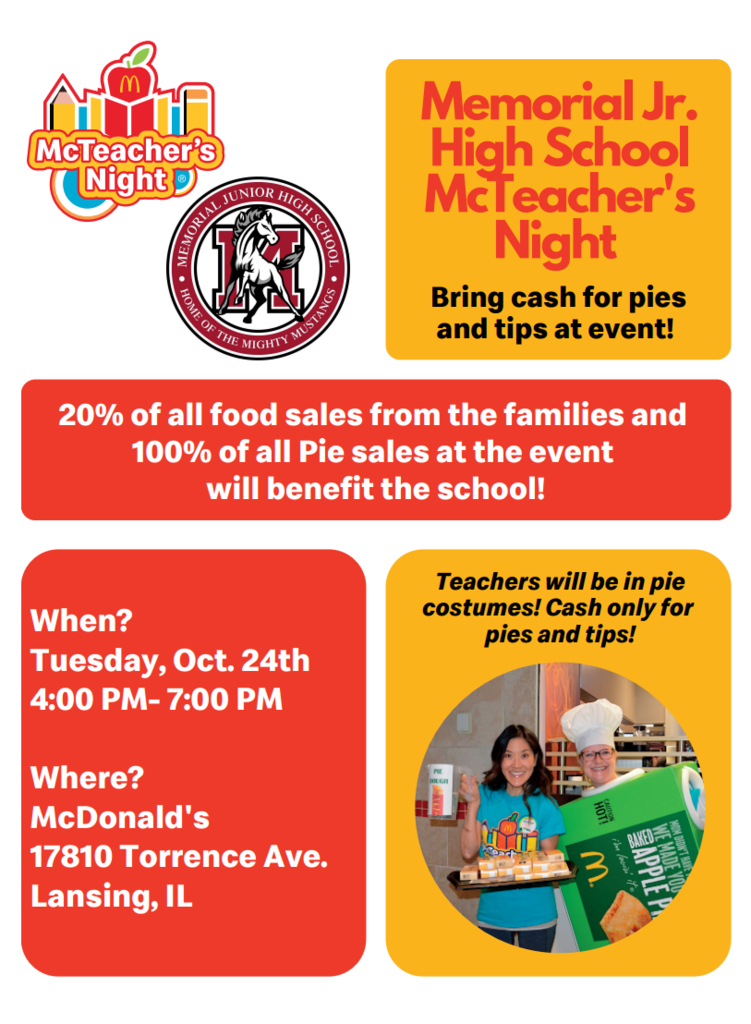 Memorial Junior High School's Team 7B looked at sunflower and pumpkin stem cells, dog stomach cells, and nylon fibers to kick off their Life Science studies! Students work together to predict if they are looking at plant or animal cells. #MightyMustangs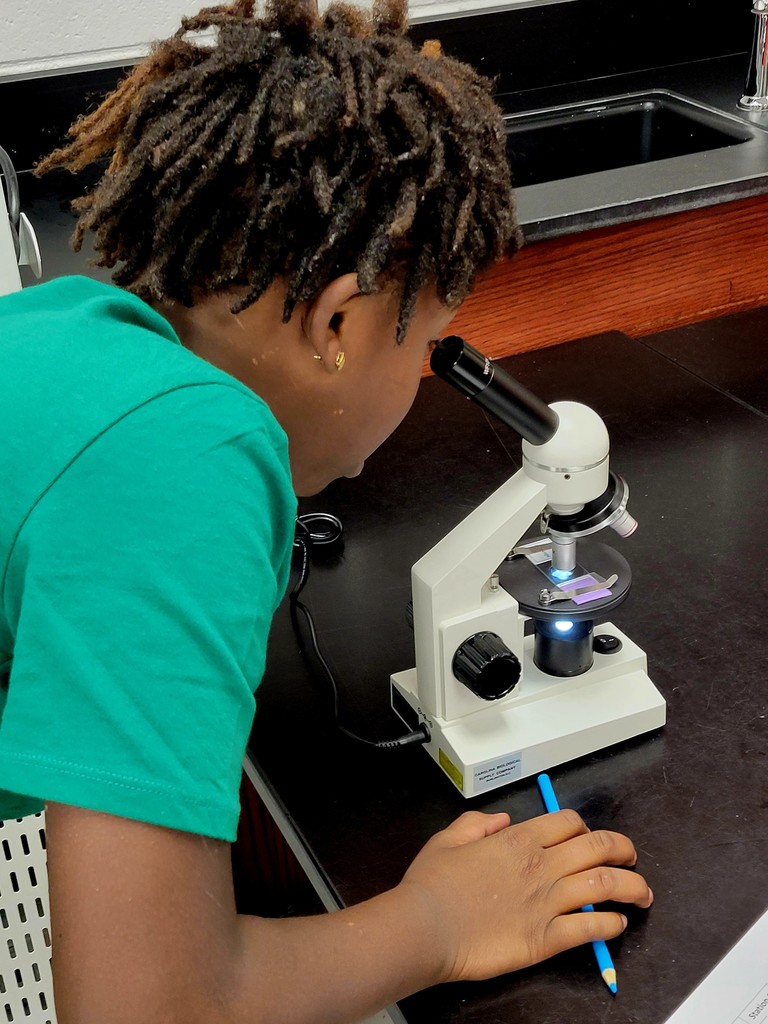 Students are required to follow the direction of their PE teacher, which includes having a change of PE clothing (shorts, sweatpants, t-shirt, sweatshirt) for class. For those who recently ordered through the online store, uniforms should arrive by next Friday, 9/22. Until uniforms arrive, students change into their choice of appropriate clothing for PE class (shorts, sweatpants, t-shirt, sweatshirt). If students are not changing for class into their appropriate clothing (personal clothing or uniform), their grade will be marked down. A lack of PE uniform does not exempt students from participation in changing or being active in class. Please contact your child's PE teacher or the main office if you have any questions. An additional cycle of the online store will start on Friday, 9/15 through Friday, 9/29. Uniforms will take approximately 2 weeks to arrive for this cycle. Online Store:
https://mjhsgymuniforms.itemorder.com/shop/sale/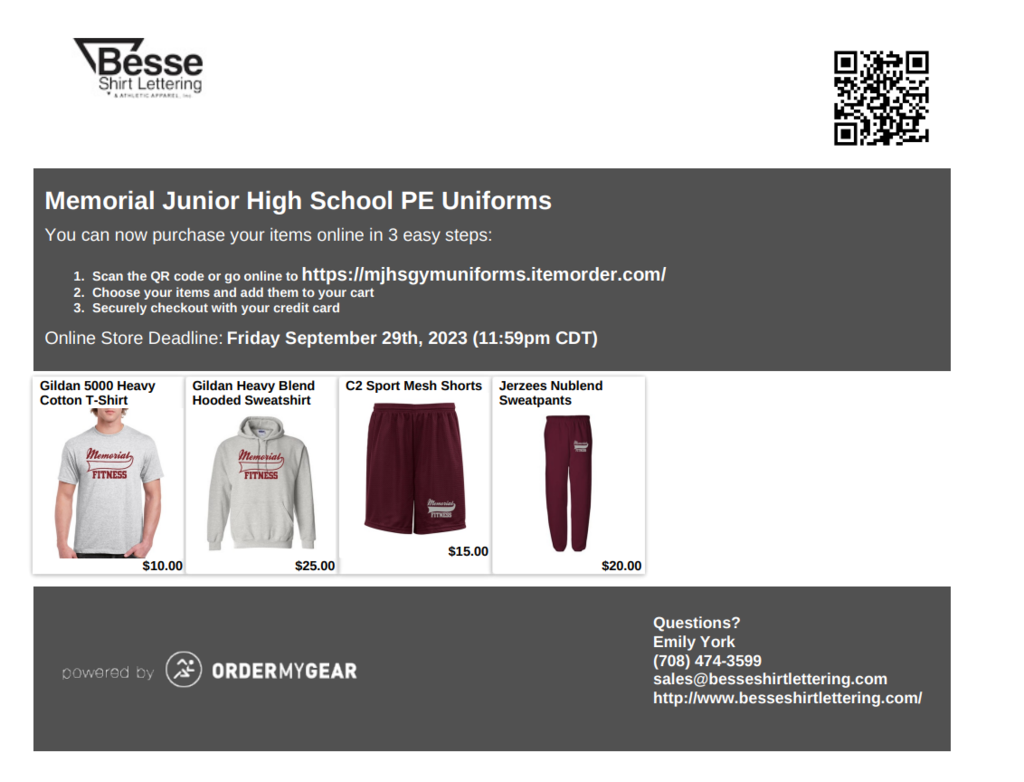 Hello Mighty Mustang Families, Today, 9/11, marks the first Mighty Mustang's girls basketball game of the 2023-24 season! The game today will be held in the large gym. The cost for adults is $2 and $1 for students/children. Remember that all students must be accompanied by their parent or legal guardian to attend. Hola familias Mighty Mustang, ¡Hoy, 9/11, marca el primer juego de baloncesto femenino de Mighty Mustang de la temporada 2023-24! El juego de hoy se llevará a cabo en el gran gimnasio. El costo para adultos es de $ 2 y $ 1 para estudiantes / niños. Recuerde que todos los estudiantes deben estar acompañados por su padre o tutor legal para asistir.

Please be reminded that student registration for the 2023-2024 school year will be closed from Monday, August 21 through the start of school next Wednesday, August 23.  Proof of residency must be completed in-person and our offices close at 4:00 PM this afternoon.  We will resume registration appointments next Thursday, August 24.  Feel free to contact the office of your child's school with any questions.

2023-24 MJHS Softball Team Announcement & Schedule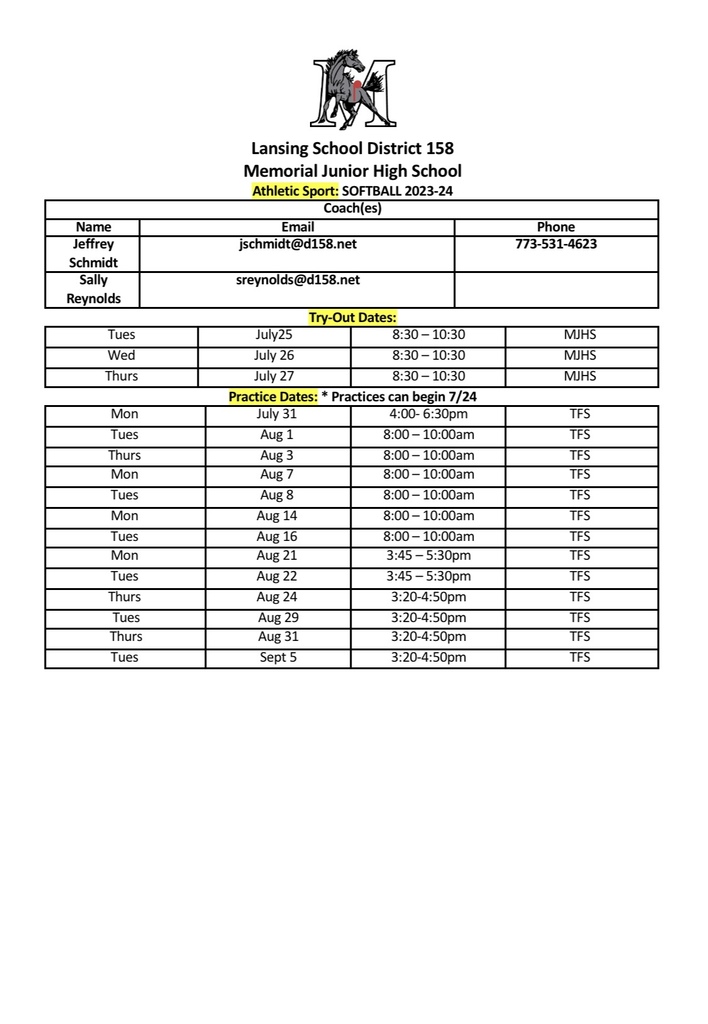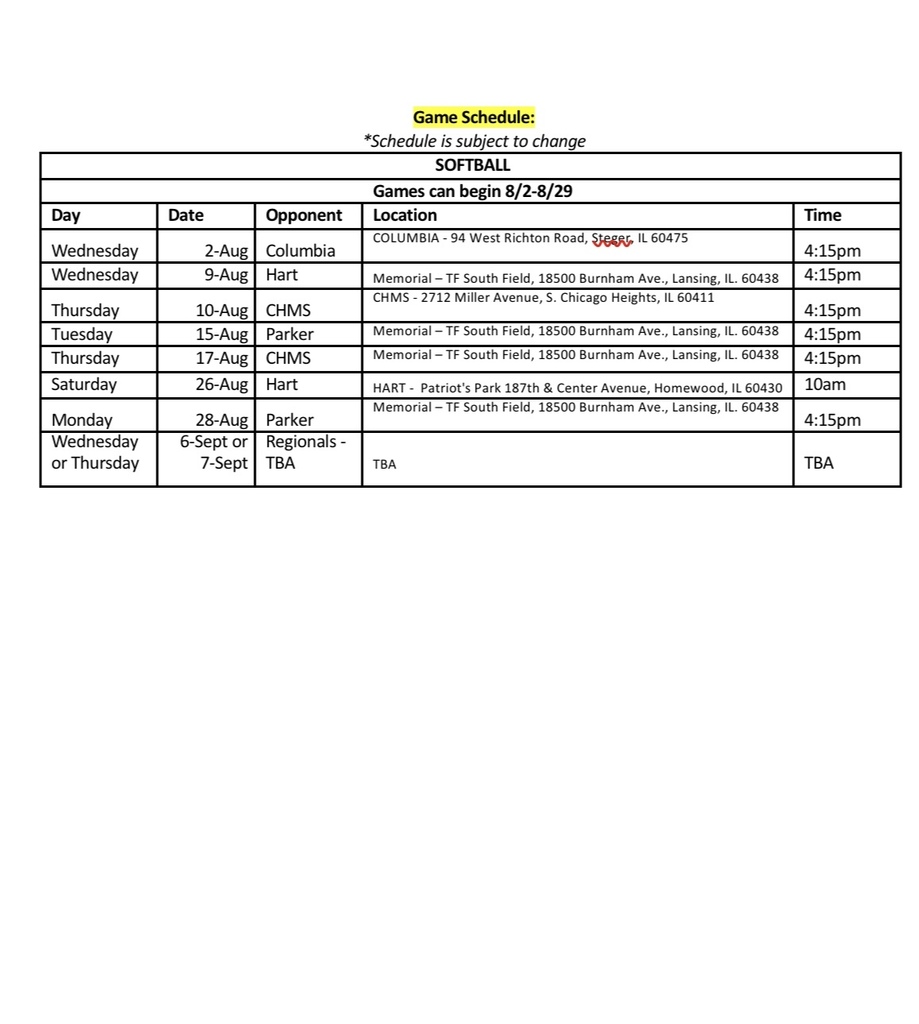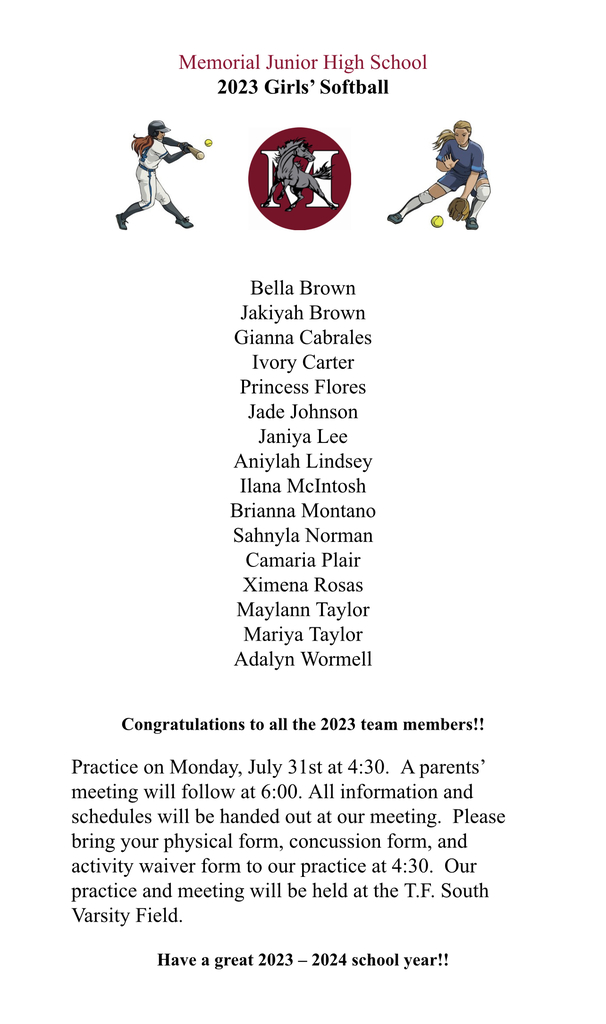 Lansing School District 158 will be holding a Job Fair next Wednesday, August 2 from 2:00 PM to 6:00 PM at Memorial Junior High School. Available positions include teachers, paraprofessionals, and maintenance staff. We look forward to seeing you!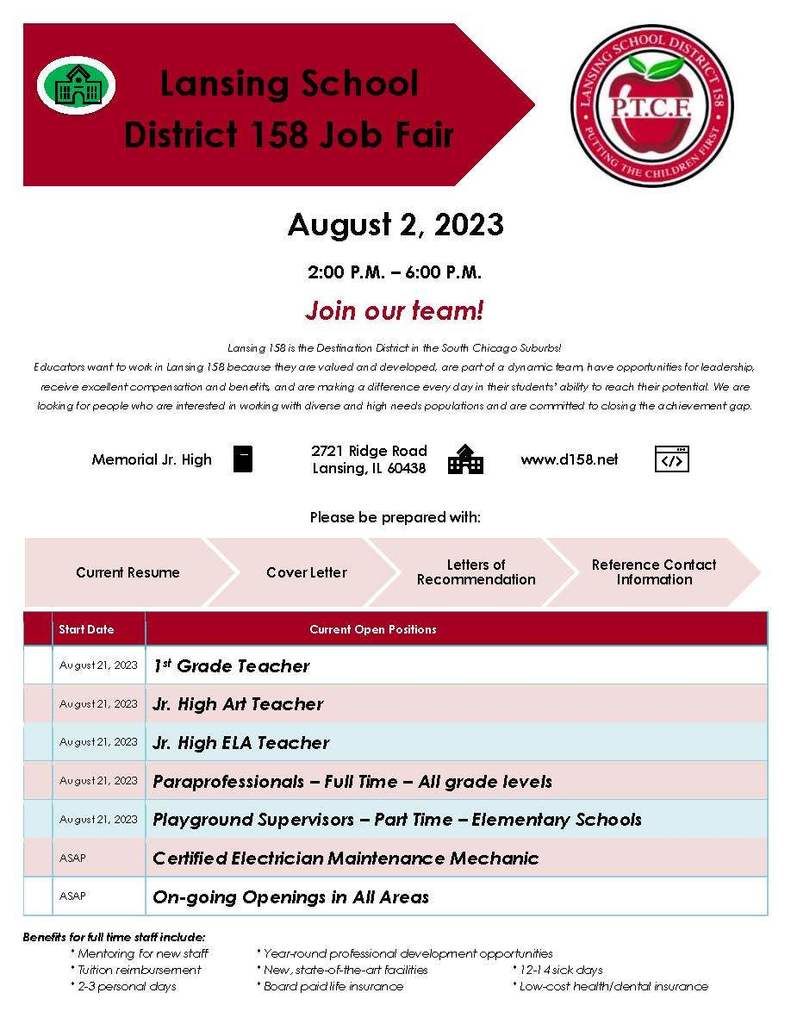 Starting tomorrow (July 21, 2023), the old Door 1 at Lester Crawl Primary Center off Greenbay Avenue will be closed due to construction. Please visit the new Door 1 in the back of the building to access the District Office and Lester Crawl Main Office. Drive west from Illinois Street, go past the Maintenance Shop, take a right on the paved drive, and park in the spaces behind the building. Please call (708) 474-6700 with any questions.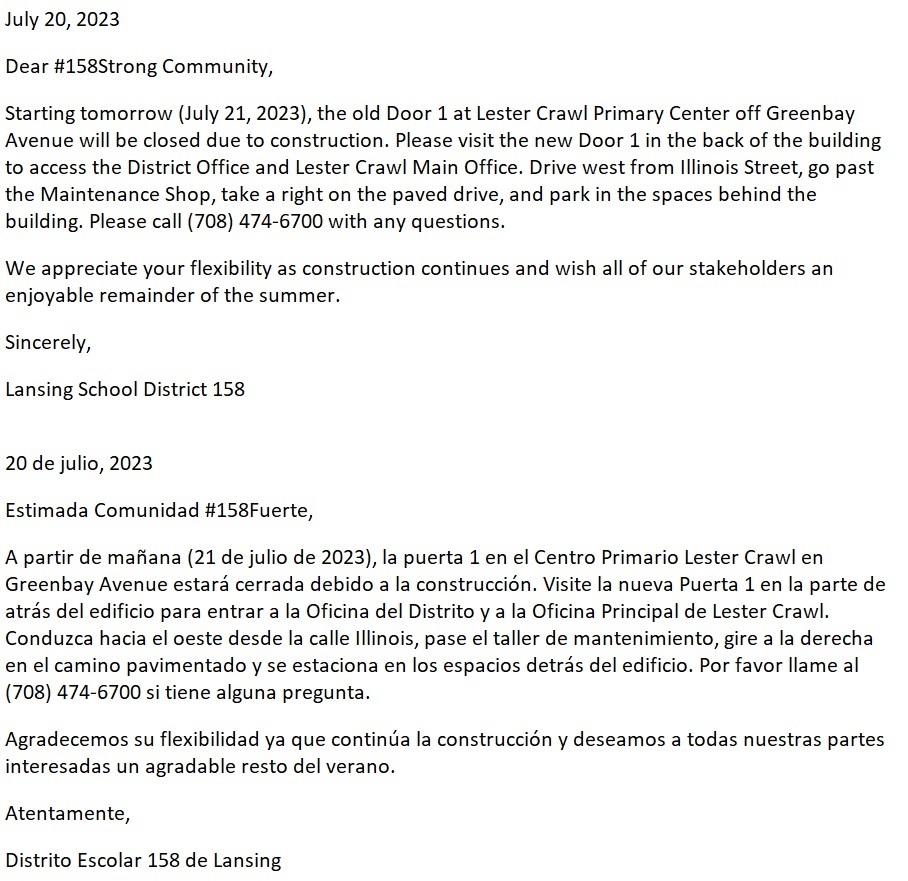 Summer Meals Program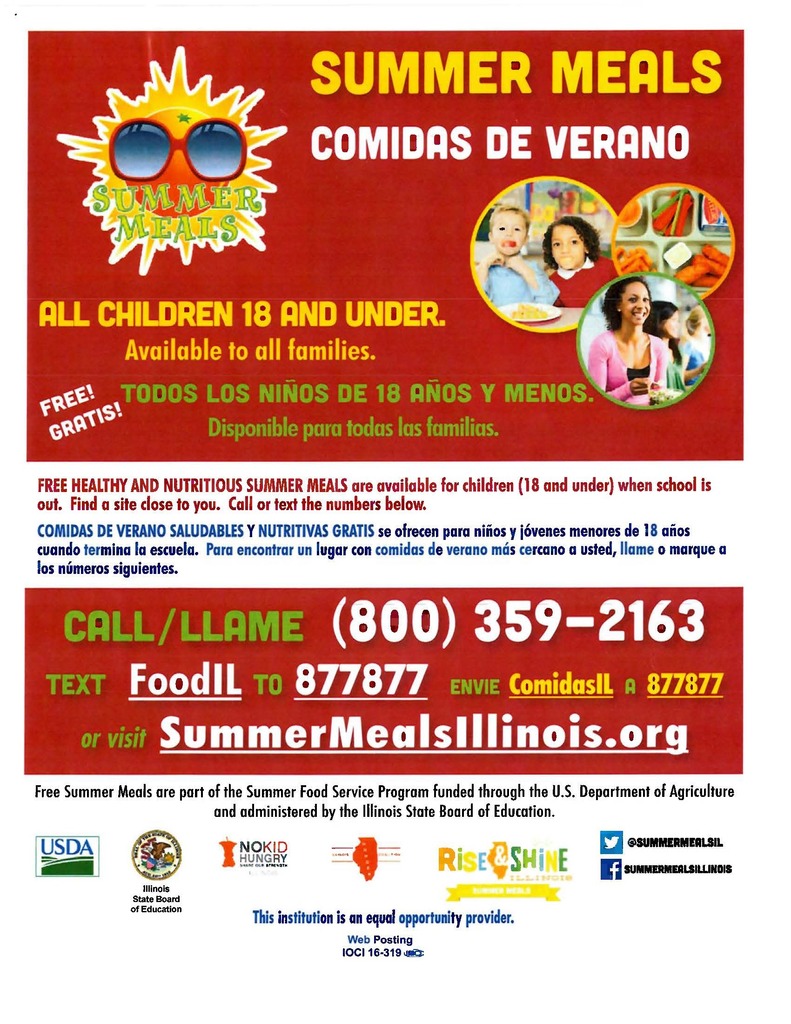 The 2022-2023 school year concludes today with a 12:00 PM dismissal for all students. Our offices will close at 3:00 PM this afternoon. We appreciate everything our students, staff, parents, families, and other stakeholders have done to make this another successful school year.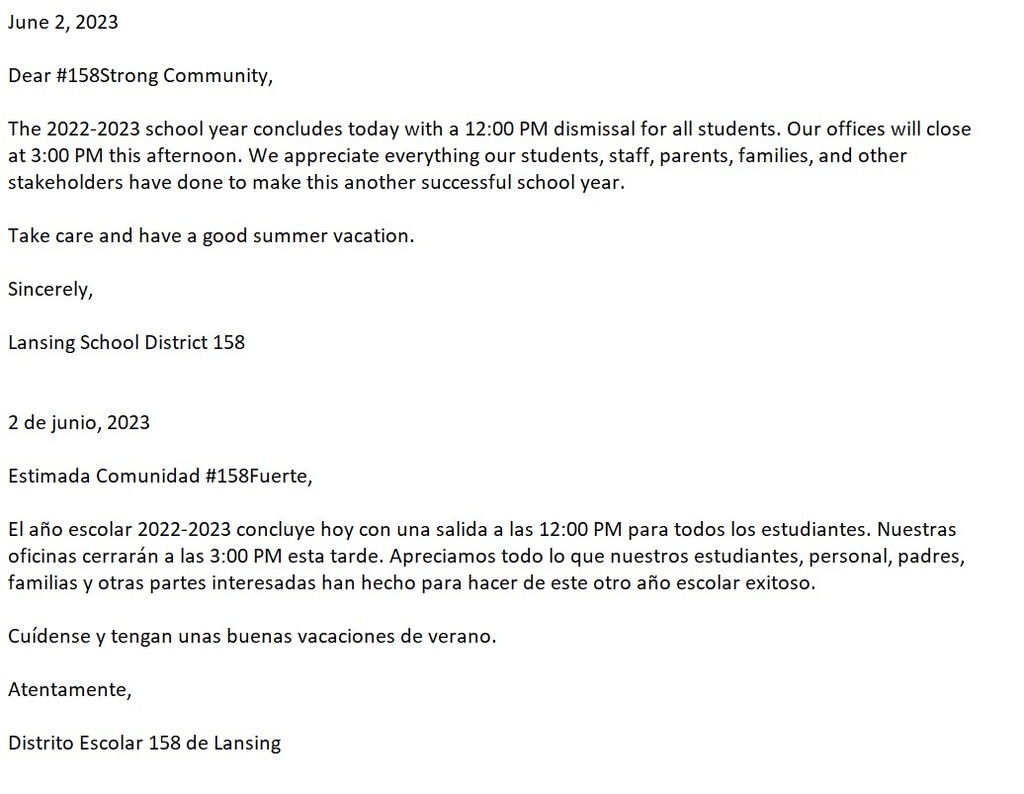 2023-2024 Online Registration for new students will close next Wednesday, May 31. Any students who do not register by this date will be required to prove residency and complete registration when we return in August. All families are encouraged to complete registration as soon as possible. Please contact the office of your child's school with any questions.

NOTICE OF CHANGE OF TIME OF LANSING SCHOOL DISTRICT 158 REGULAR SCHOOL BOARD MEETINGS. NEW TIME: 6:00 P-M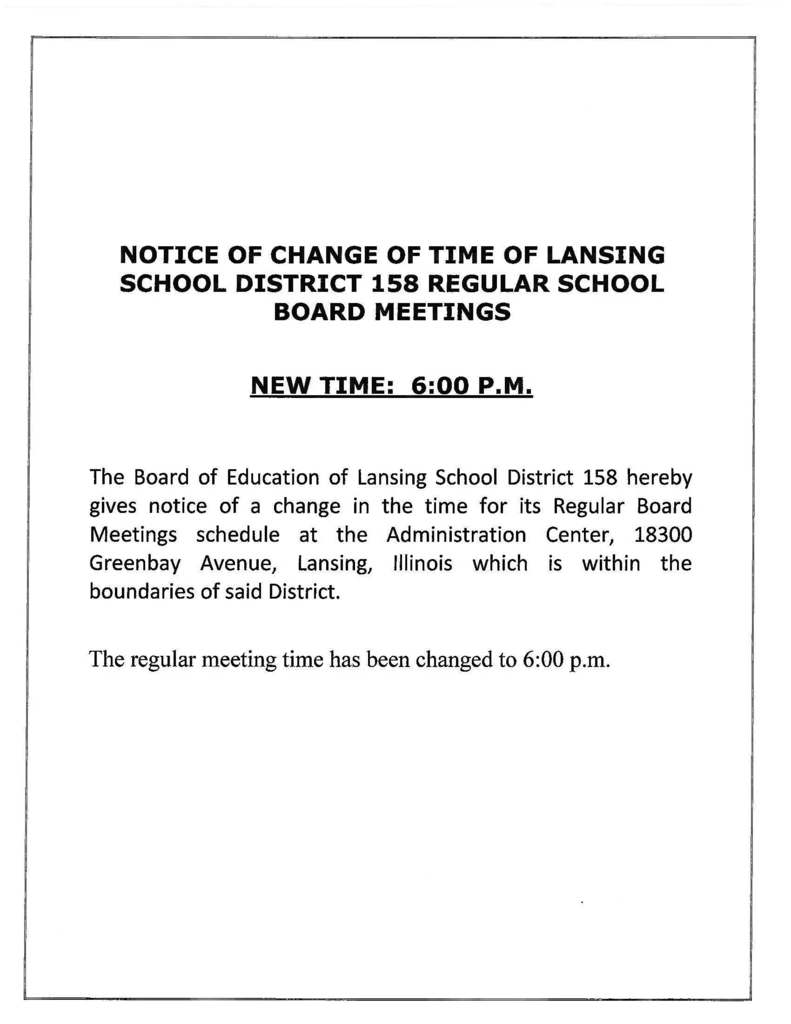 Join us on May 8th for the "Majestic Mustang's Dance Recital" at 5:30pm in the Big Gym. Únase a nosotros el 8 de mayo para el "Magestic Mustang's Dance Recital" de Memorial a las 5:30 pm en el Big Gym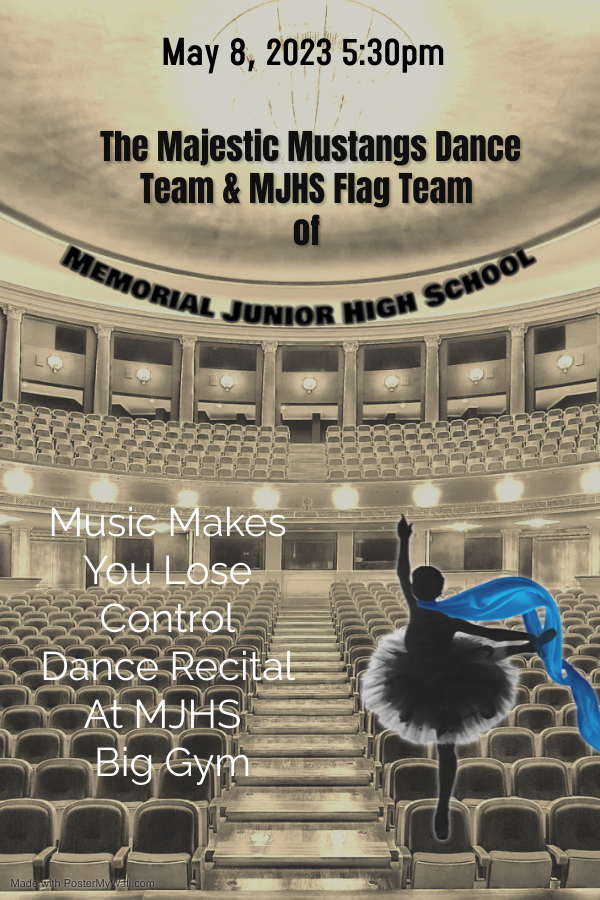 Registration Alert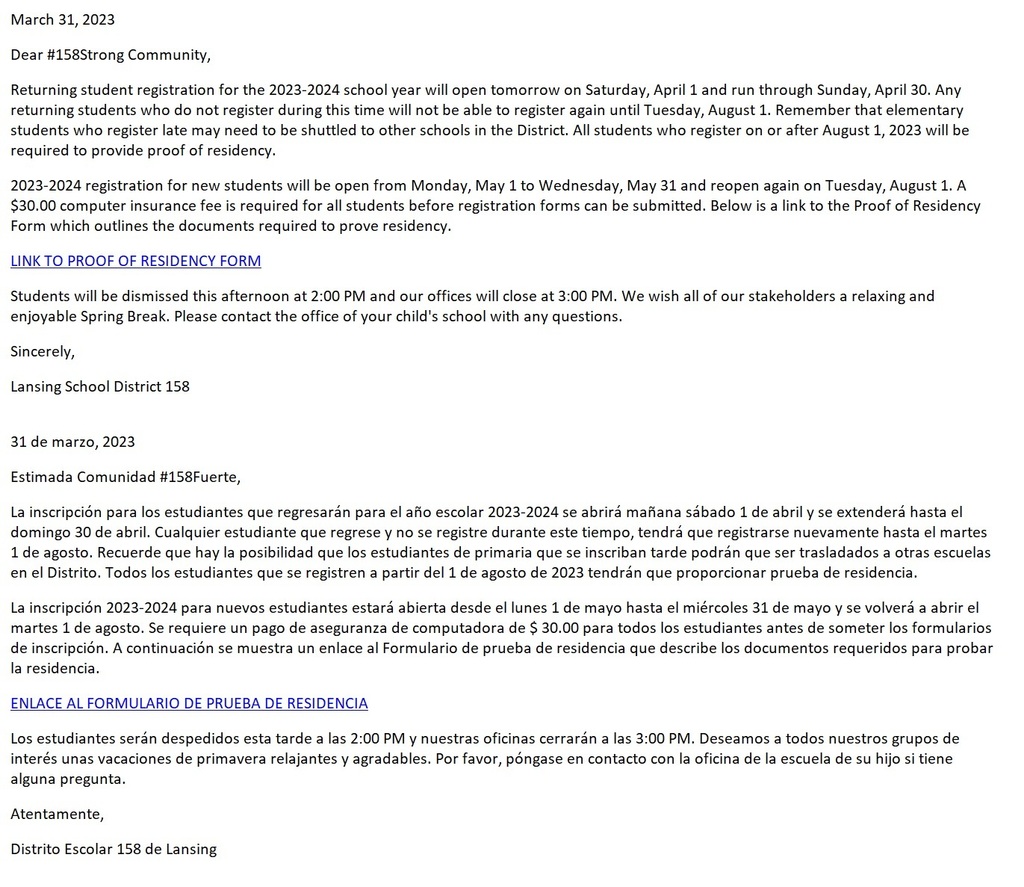 Due to anticipated inclement weather, District 158 will be implementing an Emergency E-Learning Day tomorrow (Friday, March 3, 2023). Students will participate in virtual learning from home and all school buildings will be closed. Staff will be available remotely and this day will not need to be made-up at the end of the school year. Athletics and activities are cancelled tomorrow. Kindergarten registration at Reavis Elementary School is rescheduled for Thursday, March 9 , 2023.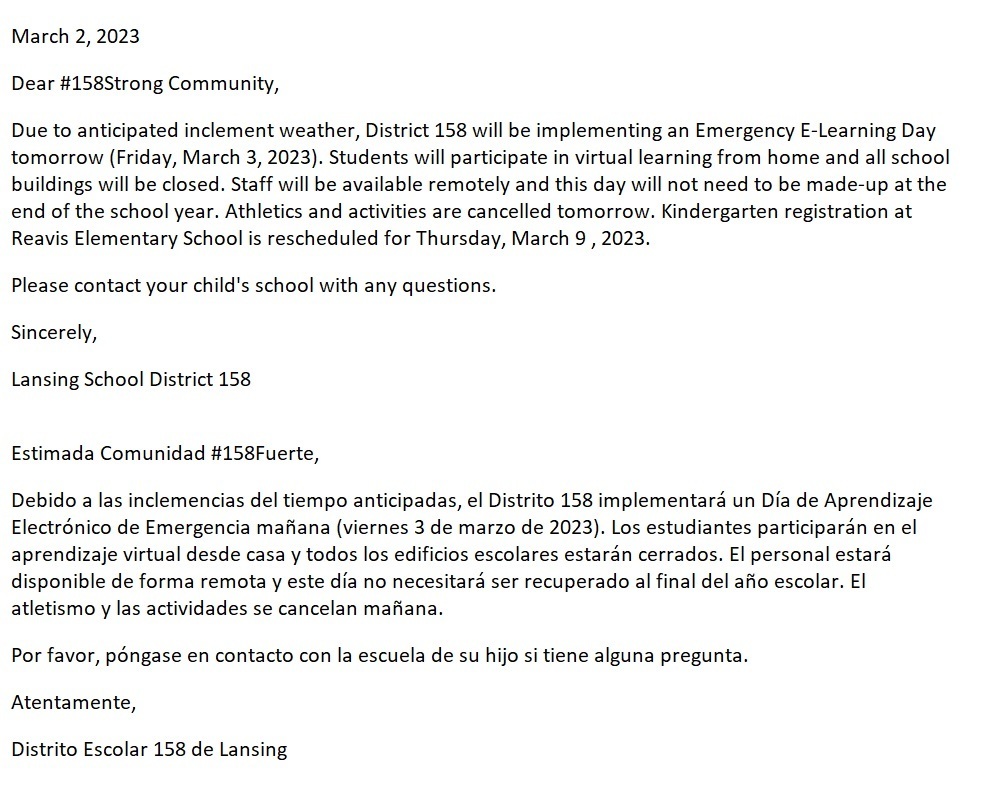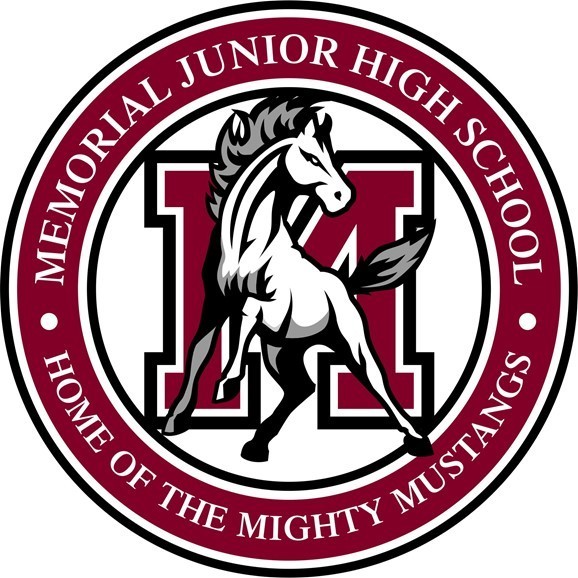 This is a reminder that Memorial will host "UNITY: A Black History Program" on Monday, 2/27/23, 5:30PM in the large gymnasium. Please enter through door 19 to attend. We look forward to sharing this performance with you, in celebration of Black History Month. If you have any questions, please contact the main office, 708-474-2383.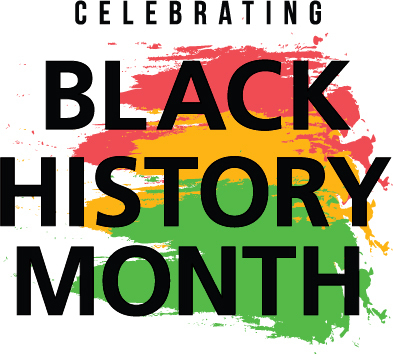 CTE Showcase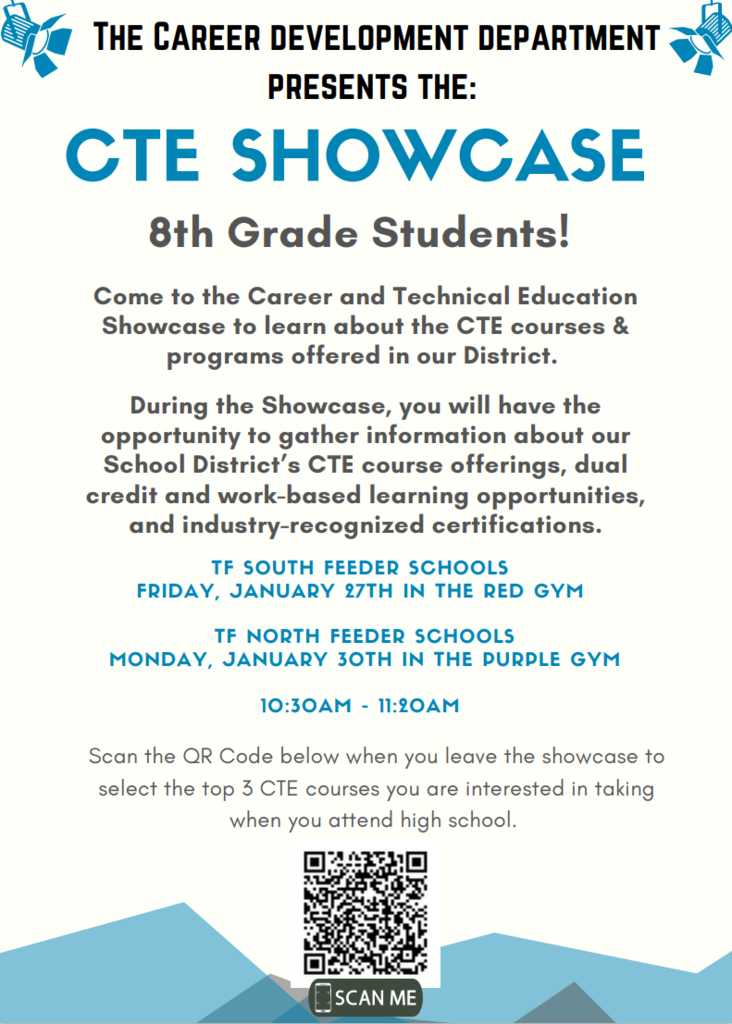 On Tuesday, 12/20, all 6th-8th grade students will receive a toy courtesy of Joliet Marine Corps' Toys 4 Tots. Students will bring their toy home on Tuesday. Happy Holidays from MJHS!